Claas TUCANO 570-320 combine harvester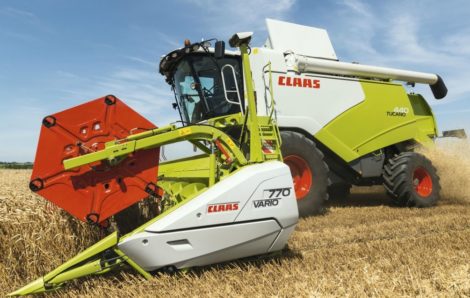 Claas TUCANO 570-320 combine harvester
Claas TUCANO 570-320 combine harvester
Brand: Aebi
Transmission: MECHANICS
Condition: Hide
Claas TUCANO 570 combine harvester: rotor grids' shutters
Mechanical rotor grids' shutters for variable adjustment of the residual grain separation and a sixth additional rotor grid ensure better separation performance.
NEW: top discharge and large volume grain tank
The top discharge with increased speed up to 105 l/s and the electric control of the grain tank lid offer, together with the large window of the grain tank, a perfect visibility, contributing to increase your performance.
NEW: hydraulic adjustment of the concave.
The concave is hydraulically adjusted from the operator's seat. This allows the immediate and extremely convenient adjustment, according to the changing harvesting conditions throughout the course of the day. The parallel adjusting guide of the concave guarantees an optimal threshing quality. Transformation of nitrogen oxides by SCR and EGR. To comply with this new standard, the TUCANO Mercedes-Benz engine is equipped with a selective catalytic reduction system (SCR: Selective Catalytic Reduction). This process converts the nitrogen oxides, contained in the exhaust flow, into pure nitrogen and water. The required urea solution is carried in a separate 57-liter tank. A further reduction of nitrogen oxides is achieved by cooled exhaust gas recirculation (EGR).
Darin Srl Claas TUCANO 570-320 combine harvester Dealer