Claas LEXION 670-620 Combine Harvester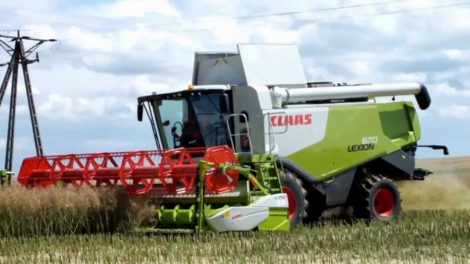 Claas LEXION 670-620 Combine Harvester
Claas LEXION 670-620 Combine Harvester
Brand: Claas
Transmission: MECHANICS
Condition: Hide
Claas LEXION 670-620 combine harvester with exclusive APS threshing system.
An accelerator in the threshing system: patented, this exceptional system is offered by CLAAS only. The decisive advantage of CLAAS is already born downstream of the beater. The significantly increased acceleration of the crop flow from 3 m/s to 20 m/s triggers a chain of extremely efficient processes.
MULTIFINGER SEPARATION SYSTEM (MSS). The MSS system (MULTIFINGER SEPARATION SYSTEM) ensures effective residual grain separation under all conditions. Intensive fluffing of the straw mass is critical for high separation efficiency, particularly when field conditions are difficult. This is why all LEXION straw walker combines are equipped with MSS system, consisting of drum with controllable tines positioned over the straw walkers.
Automatically tipping grain tank. With a volume of up to 11,000 liters, LEXION demonstrates its potential also in terms of the capacity of the grain tank, without mentioning its many other advantages. With the LEXION series, CLAAS offers you the possibility to choose the capacity of the grain tank, according to your needs.
Side wind automatic adjustment. All LEXION models equipped with a radial distributor can be equipped with two sensors that allow to automatically modulate the throwing direction of the chopped material in case of side wind. Even on slopes, the automatic adjustment of the throw direction allows an uniform distribution over the whole working width.
Darin Srl Claas LEXION 670-620 combine harvester Dealer