Georgia Tangential Sprayer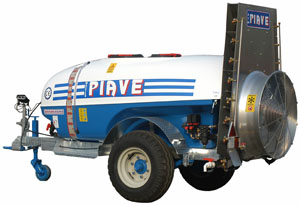 Georgia Tangential Sprayer
Georgia Tangential Sprayer
Georgia Tangential Sprayer is the most versatile of our range and can be used as a ATOMISER/SPRAYER (normal distribution) and as a NEBULIZER (concentrate distribution). An air distribution regulating system allows to obtain a uniform dusting of all the leaves with any training method for vineyards and orchards. A newly developed adjustable blade propeller ensures an uniform air distribution.
The rear conveyor, pre-mixer and parts subject to wear are supplied in stainless steel to ensure a good durability.
FOR WHAT IT OFFERS, THIS MACHINE IS UNIQUE OF ITS KIND.
"GEORGIA FULL OPTIONAL", the frame is totally in hot galvanized steel with integrated fenders; the air distribution unit (conveyor – flow director – grille and bolts) is in AISI 304 stainless steel. The machine includes a stainless steel pre-mixer, distributor with drilled extra thick stainless steel internal pipes for liquid mixing, jets with ALBUZ nozzles for concentrate distribution and ceramic nozzles for normal distribution and self-cleaning brass micro-filters. In addition, the bronze pump is usually installed.
ON REQUEST, PUMPS OF ANY BRAND ARE MOUNTED.
Darin Srl Producer and direct distributor
Brand: Piave
Transmission: MECHANICS
Condition: Hide